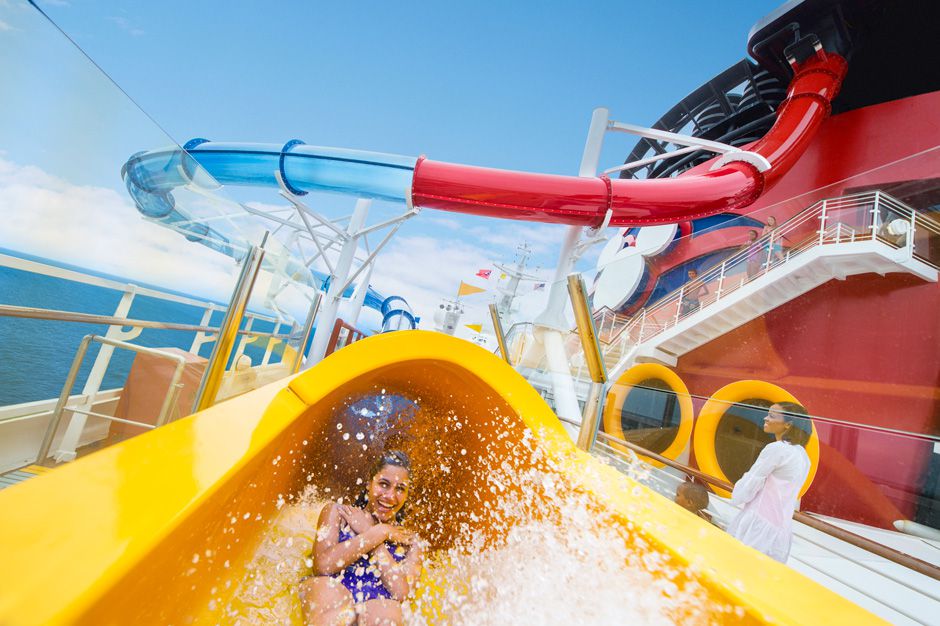 Looking for a Disney family vacation that's very different from a theme park getaway? A Disney Cruise offers something for everyone. Along with amazing kid clubs, fun pool decks, and a rich trove of Disney family entertainment, there is also plenty for parents to love. Brimming with the classic style of majestic 1920s ocean liners, Disney's ships are sophisticated and full of grown-up appeal, from their elegant Art Nouveau and Art Deco designs to the impressive array of relaxing spaces just for adults. Even better, your cruise fare includes many magical extras that only Disney can provide.
On a Disney Cruise, families can spend time together enjoying pool decks with water slides, water coasters, and splash pads; taking in Broadway-style stage shows; and participating in a wide variety of family games and activities. Disney ships offer many opportunities to give everyone in the family some "me" time. Children ages 6 months to 17 years have age-appropriate, imaginative spaces to meet friends and have wonderful adventures. In cozy "it's a small world" nursery!, the youngest seafarers can play games, make crafts, watch movies or even take a nap. In the Oceaneer Club, preschoolers can play dress up in Tinker Bell's Pixie Hollow or slide down a Slinky Dog slide in Andy's Room from "Toy Story," while school-aged kids can join in Marvel super-hero training with Captain America or pilot the Millennium Falcon from Star Wars. Pre-teens and teens have their own cool hangouts and schedule of fun activities. Parents, meanwhile, can relax at the quiet adult-exclusive pool, café, and spa; take yoga classes; attend wine and martini tastings; and enjoy fine dining in specialty restaurants and cocktails in the night-time entertainment district.
Planning a Disney Cruise is almost as fun as taking one. The first step is to choose the right itinerary for your family. Disney's ships sail from U.S. cities like Port Canaveral (near Orlando), Miami, Galveston, Texas, New York and San Diego to various destinations in Alaska, Europe, the Bahamas, the Caribbean and Canada. Voyages last between three and 12 days, with cruise lengths varying by itinerary and destination. For added magic, consider cruising during the Halloween and Christmas seasons or sailings that feature special themed events, such as Star Wars Day at Sea and Marvel Day at Sea.
After you've booked your cruise, it's a good idea to take advantage of Disney Cruise Line's online check-in, available for first-time guests 75 days before your departure date up until two days before you sail. Online check-in saves you time on embarkation day, and you can use online reservations to request a preferred dinner seating, choose special dining experiences, and book shore excursions, spa treatments, and other special experiences. Before you sail, be sure to schedule a free character call to your phone from Mickey or Goofy.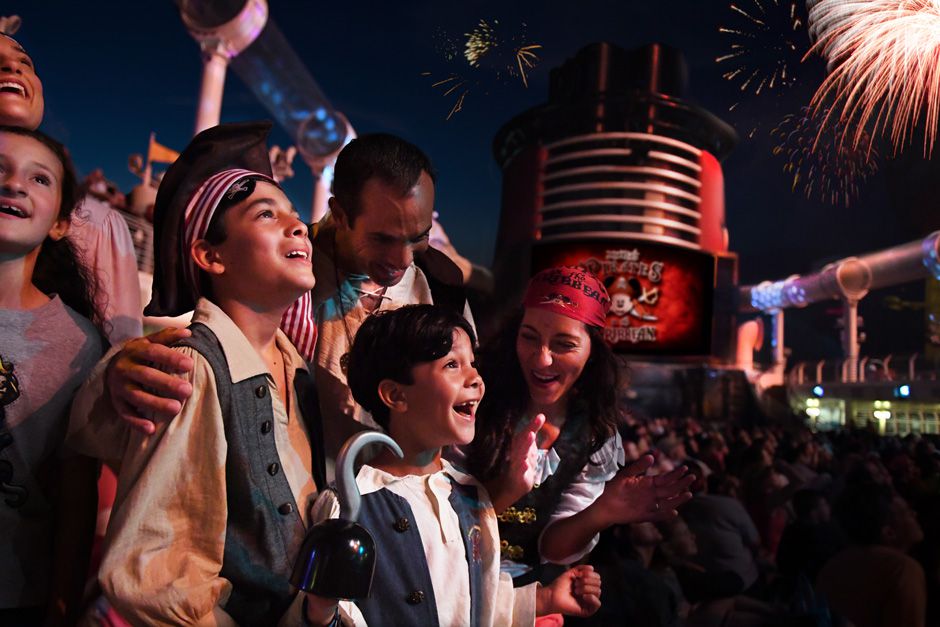 As your cruise approaches, consider what to pack. There's nothing stuffy about a Disney Cruise, and most of your suitcase space can be devoted to casual wear. On the day you board your cruise, bring your bathing suits in your carry-on bag so that your family can start enjoying your ship's pool deck right away. There's no need to pack pool towels, as they are provided on board. You can either bring your own pirate outfits or purchase pirate accessories on board for Pirate Night. And finally, parents will want to pack a dressier outfit for dinner at Palo or Remy, an adult-exclusive fine dining restaurant that is not to be missed.
Once on board, the fastest way to get oriented on your ship is to download the Disney Navigator mobile app, which has deck plans, activity schedules, and even dinner menus. The app will remind you when your favorite activities are about to begin, and there's a handy chat function that lets you keep in touch with family members on board. (Be sure to put your smartphone in airplane mode for the duration of the cruise.) If you prefer a paper guide, you'll find the Personal Navigator in your stateroom every evening with a schedule of the next day's activities.
When the ship is in port, plan to immerse yourself in local culture at ports of call. Your family can go snorkeling or swim with stingrays in the Caribbean, discover Mayan ruins in Mexico, go flightseeing over glaciers in Alaska, or explore royal castles in Europe. Whatever you choose, you'll want to make the most of your family's time in these spectacular destinations. If your itinerary includes a day at Castaway Cay, Disney's gorgeous private Bahamian island, you will find pristine family and adult-exclusive beaches and a raftload of family and children's activities. While on the island, you can enjoy barbecue dining, an array of beverages, and soft-serve ice cream—all included in your fare.
On sea days, plan to relax and enjoy the ship. Families can hang out on the pool deck and try out the AquaDuck water coaster or AquaDunk drop water slide, catch a first-run movie in the Walt Disney Theatre, play shuffleboard on Deck 4, meet favorite Disney characters, or take part in the many group activities happening on board. While kids log in quality time with new friends in their clubs, parents will have the opportunity to recharge at the adult pool, indulge in a champagne tasting, or get pampered in the ocean-view Senses Spa. Since the ship offers something for everyone in your family, everyone can get the vacation they deserve.