America's 58 national parks are some of the most beautiful and worthwhile places to visit on vacation. But unfortunately, not all of them are super dog-friendly. Though some offer a few dog-safe designated areas, other parks go a step further and welcome Fido on a large number of trails and paths (as long as he's safely leashed).
Since your dog is an integral part of the family, we've rounded up ways for you to take your dog on vacation and spend quality time together. These national parks allow you and your dog to live a big life together. A healthy dog is one that's well-exercised and well-loved, and a national park can be a great way to give your dog the stimulation he needs. But before he gets that much-needed workout, it's important to give him the right fuel for his trip. Feeding your dog a high-quality dog food like Nature's Recipe® is the best way to give him the nutrition he needs to get the most out of all your adventures.
For your next vacation, head to one of these seven dog-approved national parks both you and your furry friend will love.
Acadia National Park - Maine
With over 49,000 acres of mountains, lakes and trails, Acadia National Park is not only one of the most beautiful parks in America, it's actually one of the most dog-friendly. With the exception of a few trails that require ladders or the traversal of steep rocks, dogs are allowed on all 100 miles of hiking trails in the park. Though there are endless hikes to choose from, visitors say Day Mountain and Dorr Mountain are great choices for an active dog. During peak season (May - September), dogs aren't allowed on beaches or in lakes, but for the rest of the year you can let your pup explore the shoreline to his heart's content.
Once you've gotten your fill of stunning landscapes and Instagram-friendly mountains, take your best friend to the nearby town of Bar Harbor where stores and restaurants routinely welcome Fido (be prepared for lots of dog treats!). As you hike or explore Bar Harbor, don't forget to pack a serving of Nature's Recipe® Grain Free Chicken, Sweet Potato and Pumpkin Recipe dog food to fuel his wag on your big adventure.
Shenandoah National Park - Virginia
Home to the scenic Skyline Drive, Shenandoah National Park sits in Virginia's Blue Ridge Mountains and is a great place to spend a vacation with your dog. These 200,000 acres of protected lands are home to over 500 miles of trails, and only a small portion of them (just 20 miles of trail) are off limits to dogs. Some favorite hikes for pups include the Sugarloaf Loop and the White Oak Canyon trails. If your dog isn't spry enough for a difficult hike, a spin on the Skyline Drive is a great way to spend a day with your pup (with awesome photo ops all along the route). The Shenandoah Valley also offers many pet-friendly inns and hotels to recover from your trip.
Cuyahoga Valley National Park - Ohio
Ohio's only national park offers 125 miles of trails that your furry friend is welcome to explore all year long. Though the elevation isn't as high as some other national parks, Cuyahoga Valley offers rolling plains, lush forests and deep ravines to traverse with your dog. If he's up for an adventure, the Brandywine Falls Trail offers various terrains and a gorgeous waterfall payoff. For something a little easier, the Ohio & Erie Canal Towpath Trail is mostly level and takes you into the heart of the forest.
Make a weekend of it and pitch a tent at nearby Stanford Campground, where dogs are welcomed with open paws.
Grand Canyon National Park - Arizona
One of the most popular national parks in the country is also surprisingly dog-friendly. Though Fido is not permitted on the inner-rim trails of the canyon, most Grand Canyon visitors only visit the upper levels of the park. Bringing your dog to this national landmark can be a great adventure, but be aware that summer temperatures can reach 100 degrees, so it's important to bring enough cold water and healthy, complete and balanced food from Nature's Recipe® to keep your dog safe.
If you'd rather explore the sights on your own, the Grand Canyon is the only national park with a kennel on-site (located on the south rim) where you can board your pup and know he's safe and cool while you conquer that long hike. Just be sure to bring proof of vaccinations and, of course, your pup's favorite toy.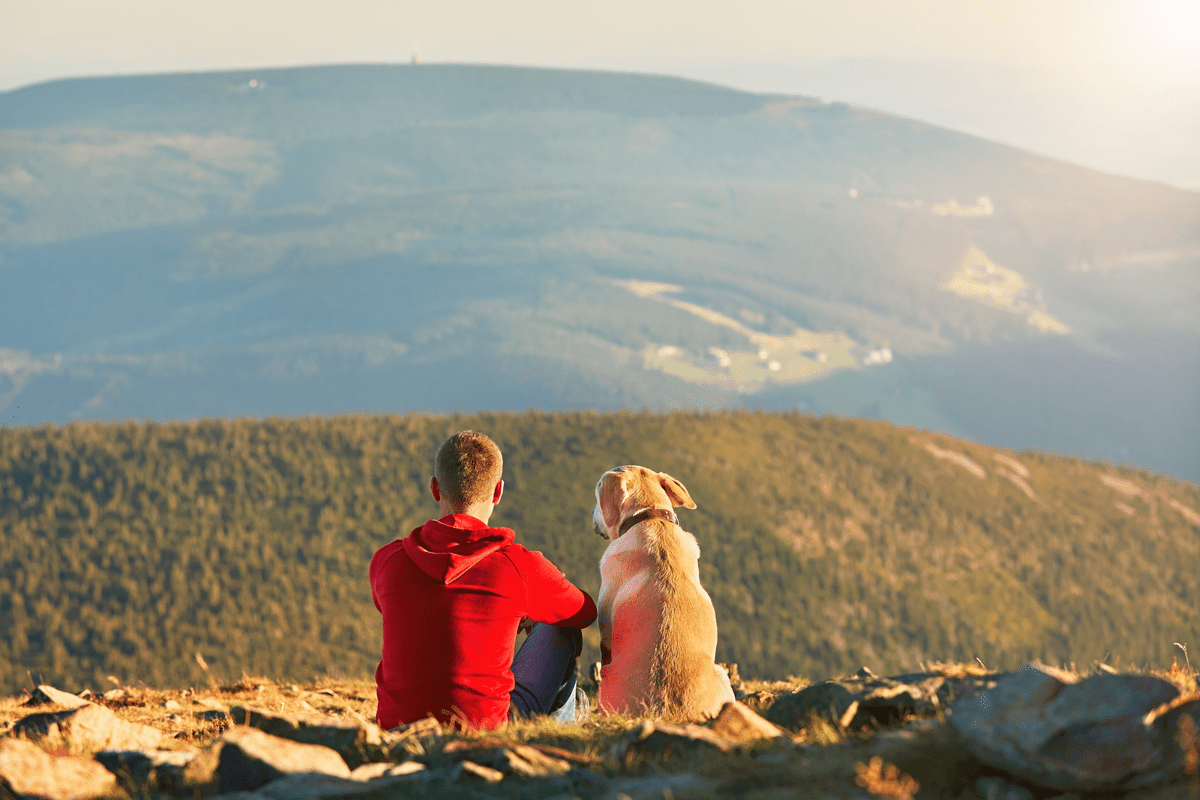 Great Sand Dunes National Park - Colorado
Great Sand Dunes National Park in Colorado not only features the tallest dunes in North America, but is arguably one of the most scenic national parks in the United States. Though dogs are not allowed in the park's backcountry (behind the first high ridge of dunes), they can explore over 30 square miles of preserve and trails. The Dunes Overlook trail is dog-friendly, easy to traverse and offers stunning views perfect for photo ops. For a slightly harder trek, try the Dunes Trail from Pinyon Flats, where you'll find four miles of dramatic 360-degree views. It's important to note that the sand can be very hot for your pup, especially during summer—so be sure to bring enough water to keep him hydrated and protect his paw pads with a moisturizer. The Medano Creek is a great place to let your furry friend cool down after a long hike.
Yosemite National Park - California
California's Yosemite National Park is a bucket list trip for many, and you don't have to experience it without your best friend. In general, dogs are allowed on any fully paved trail (but not on dirt trails or in wilderness areas)—just be aware that these are limited in supply and occasionally unmarked. They're also welcome at all campgrounds except walk-in campgrounds, and there are a couple privately owned lodging options where your dog is welcome to stay. You can save money by cooking your own meals over campfire and don't forget about dinner for Fido by trying Nature's Recipe® Grain Free Salmon, Sweet Potato and Pumpkin Recipe dog food. A few great dog-friendly trails include Wawona Meadow Loop and the walkways in Hodgdon Meadow.
There is a small kennel on-site called Yosemite Valley stables (open during the day only), but note that it has just nine stalls and often fills up early.
Mammoth Cave National Park - Kentucky
Though your four-legged friend can't explore the caves with you, Kentucky's Mammoth Cave National Park is still a great place to bring your dog. This stunning national park features the world's longest known cave system, and more than 70 miles of hiking trails are dog-friendly. The hiking paths, like Green River Bluffs Trail and Cedar Sink Trail, pass through scenic valleys and run up beside picturesque rivers and waterfalls.
The on-site Woodland Cottages are dog-friendly and offer a comfortable place for your pup to frolic and play. If you want to spend some time exploring the caves, there are kennels located in the park and maintained during daylight hours.
No matter where your travel takes you, Nature's Recipe® will fuel your dog's wag. To learn more ways to fuel adventure with your dog, go here: www.naturesrecipe.com/world-of-wag.