Traveling with your pet can be a rewarding way to spend quality time with your four-legged friend. For some dogs (and dog owners), heading to the airport and hopping on a plane can cause a lot of stress and anxiety—but with the right preparation, you can rest assured you and your pup will have a comfortable and stress-free flight.
Whether you're relocating across the country or taking your best friend on the vacation of a lifetime, a bit of planning can go a long way. Before you bring Fido onboard, check out these tips to help your next trip go as smoothly as possible.
Know Your Carrier's Policies By Heart
Find the right carrier
Before you decide to take your beloved pup on a flight, do a little research and learn each airline's policies, prices and fees. Most importantly, take a look at their track record for keeping companion animals safe and happy during flights.
Book in Advance
Some airlines have limited space for dogs in the cabin, so booking and reserving your spot in advance can save you a major headache down the road. If possible, fly direct—and if you can afford it, opt for first class, especially if your pup will be riding in a carrier with you. The more leg room, the more comfortable you and your pet will be.
Find the Perfect Carrier
Now that you've booked a flight, it's time to find the perfect carrier for your four-legged friend. If your dog is 15 pounds or less, he can likely fly under the seat in front of you. If not, research your airline's cargo pet travel requirements and buy a USDA-approved crate that allows your dog to move around comfortably. Make sure to clearly label your crate with your pet's name, a photo and your contact information.
Prepare for Your Trip
Acclimate your pup
Help get your dog ready for the big trip by going on a few test runs in his new carrier. This will give you time to learn how your pet will handle the stress of travel and get him comfortable using a carrier, if he's not already.
See a Vet
All airlines require certification of vaccinations (including rabies shots) that are valid from 30 days prior to your departure. It's a good idea to visit your veterinarian before you travel for an overall checkup to ensure your dog is healthy enough to fly, and to make sure you have all the correct paperwork for your pup. If your vet decides that an anti-anxiety medication would be applicable for your dog during a flight, consider getting a prescription and doing a trial run before the big day.
Feed Your Dog a Healthy Diet
One of the best ways to keep your dog healthy enough to travel with you is by feeding him a well-rounded nutritious diet. A grain free dog food like Nature's Recipe® Grain Free Easy to Digest, Chicken, Sweet Potato and Pumpkin Recipe provides all the energy your dog needs to stay healthy. Opting for foods without by-products or artificial preservatives is a great way to ensure that your dog is happy and healthy, including during a flight.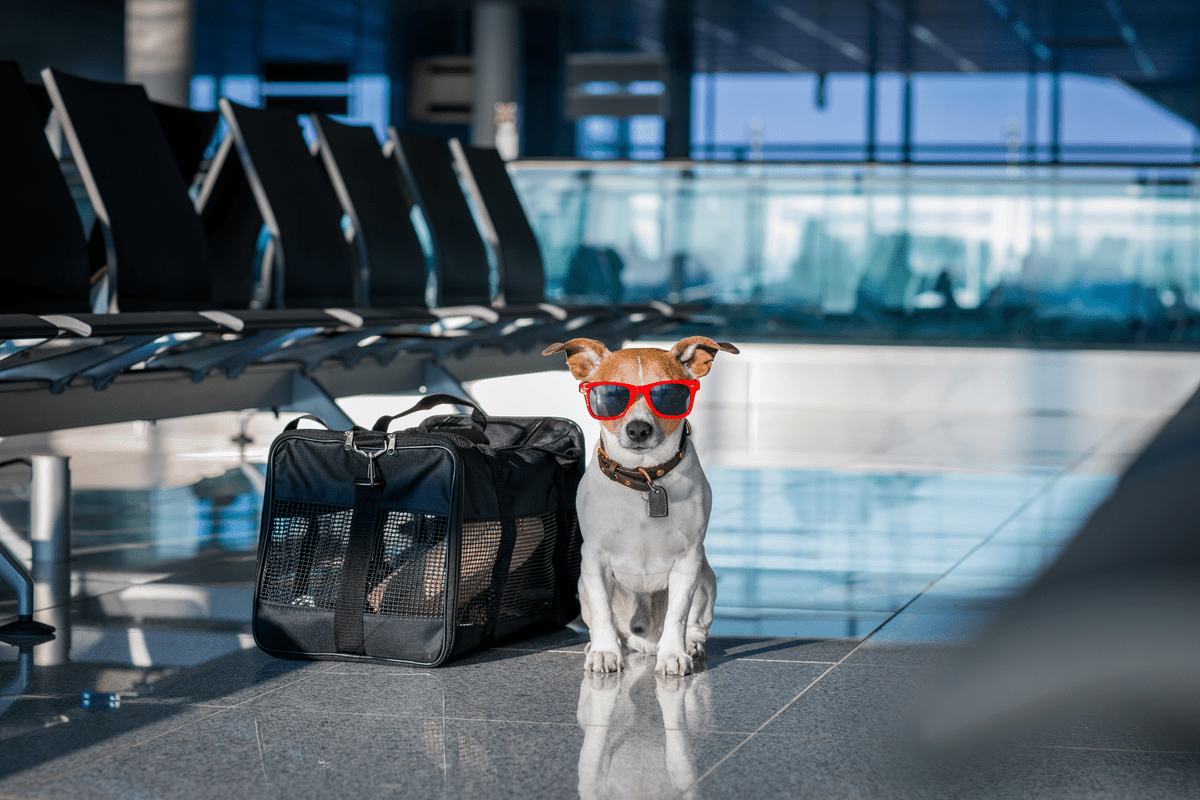 Day Of Travel
Plan for Everything
The night before your big trip, lay out everything you need (including your dog's documents!) so you're ready to go bright and early in the morning. It's a good idea to line your carrier with a reusable puppy pad and toss in a piece of clothing that smells like you so he feels safe and protected. Don't forget to measure out enough servings of Nature's Recipe® Grain Free Easy to Digest Lamb, Sweet Potato and Pumpkin Recipe to fuel his whole trip.
Food and Exercise
It's a good idea to take your dog on a long run to really wear him out before your trip. Whether he's in cargo or the cabin, a sleepy dog will make for a much less stressful flight. It's also a good idea to limit food (but not water!) up to four hours before the flight to avoid any accidents. Keeping frozen water on hand for your dog is a great idea, especially if he's flying in cargo. This prevents the water from spilling and will keep your dog cool as it melts.
Arrive Early (but Not Too Early)
If your pup is staying with you for the flight, research the location of every pet relief area in the airport in relation to your terminal and gate. If your dog is flying in cargo, arrive early enough to get him safely checked in before your flight, but not so early that he'll be alone for longer than necessary. The standard two hours is a good timeline.
Keep a Current Photograph
You probably already have countless pictures of your dog on your phone, but before you travel make sure you've printed out a few copies of a recent photo. Attach one to his or her crate and carry the rest with you just in case anything goes wrong.
Enjoy Your Trip
Give Your Dog Time to Adjust
Now that you've safely landed at your destination, it's a good idea to stay with Fido in your rental, at least for the first night. Give him time to adjust to his new surroundings and recover from the flight. Keep your dog on a normal eating routine by feeding Nature's Recipe® dog food on the same schedule that you do at home. This will allow your dog to adjust to his new digs, without interrupting his eating day-to-day habits.
Bonding Time
Have a list of pet-friendly restaurants, bars and activities on hand so you and your furry best friend can have the trip of a lifetime together. Feeding your dog Nature's Recipe® is the fuel he needs to live his absolute best life—and with a little prep, you and your dog can have a relaxing, memorable adventure together.
No matter where your air travel takes you, Nature's Recipe® will fuel your dog's wag. To learn more ways to fuel adventure with your dog, go here: www.naturesrecipe.com/world-of-wag.